Screening of Tim Burton's ALICE IN WONDERLAND.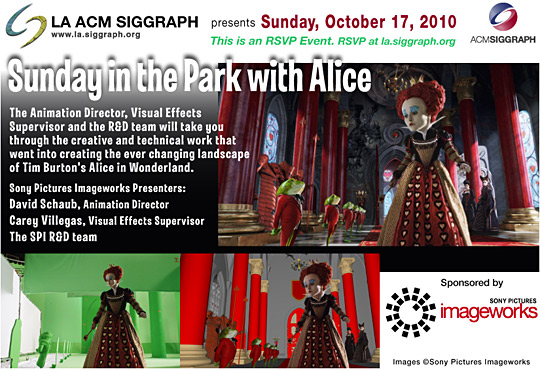 Saturday, 16 October 2010
9050 W. Washington Blvd. Culver City, CA. 90232
Description
SUNDAY IN THE PARK WITH ALICE:
A screening of Tim Burton's ALICE IN WONDERLAND
Please RSVP below.
This RSVP does not include the technical presentation. You must separately RSVP for that portion of the afternoon.
Schedule
12 noon: Screening of Tim Burton's Alice in Wonderland in 3D (RealD)
2pm - 3pm: Social Hour (everyone that has RSVPd to at least one of the events is invited). There will be special Maxon demo during our Social Hour featuring Sony Pictures Imageworks texture painter, Ron Bushaw.
Registration
This day long event is free to Los Angeles ACM SIGGRAPH members. Non-members are $15 for the 12 noon screening and $20 for the 3pm Presentations or $30 for the entire day. Social Hour, MAXON demo and snacks are complementary for anyone who attends either of the events. New members that sign up on site and pay the $40 annual membership fee (checks or cash only) do not have to pay either of the non-member/visitor fees for either part of the event. Membership entitles you to attend a year's worth of free meetings and events.