3D Projection mapping is the merging of real and virtual worlds, by projecting 3D models onto their real-life counterparts. It is a profound paradigm shift in entertainment, advertising, and lighting. PaintScaping.com, one of the leaders in this emerging field, will present case studies, and discuss the creative process, behind-the-scenes technical challenges, and job opportunities.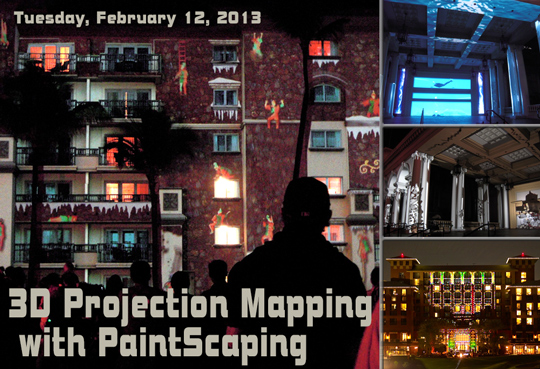 Schedule
6:30-7:30   Social Hour
- 6:30-7:00   Members only
- 7:00-7:30   Members and guests
7:30-7:45   Introductions
7:45-9:30   Presentation
Registration
All LA ACM SIGGRAPH will be admitted free of charge. Non-members of LA ACM SIGGRAPH are admitted for $20.00. New LA ACM SIGGRAPH members who sign up on-site, and pay the $40 annual membership fee (checks or cash only), do not have to pay the $20 admission fee. We accept MasterCard and Visa credit cards at the door.
Special Thanks
The Chapter wishes to thank Philippe Bergeron, Michael Kory, Joan Collins, Sheri Ki Sun Burnham, Hans Gelpke, Susan Vanderhyden, Kim Van Hoven, the Executive Council, and all the volunteers.