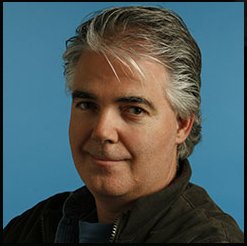 Animation Director
Sony Pictures ImageWorks
David Schaub, an animation director for Sony Pictures Imageworks has worked in the animation and visual effects industry for more than 15 years.
David was the over-all animation supervisor on Disney's ALICE IN WONDERLAND, working with director Tim Burton and senior visual effects supervisor Ken Ralston.  David was responsible for the performances of all the animated characters and animals that inhabit the world of Underland including the Cheshire Cat, White Rabbit, Tweedles, Jabberwocky, and every other non-human inhabitant (totaling more than 30 characters).
In 2008, David completed production as the animation supervisor on I AM LEGEND which was one of the seven films chosen for the 2008 Oscar® Visual Effects Bake-off.  He also received a VES nomination for his work in that film.
In 2007, David was the animation director on the Academy Award®- nominated SURF'S UP, Sony Pictures Animation's second all-CG feature-length animated film.  The film was recognized with two Annie Awards among its ten nominations and five Visual Effects Society (VES) award nominations.
Since joining Imageworks in 1995, Schaub has worked on a number of notable projects including the Academy Award®-nominated THE CHRONICLES OF NARNIA:  THE LION, THE WITCH AND THE WARDROBE.  Schaub served as the animation director for that project at Imageworks, overseeing the creation of the characters Mr. & Mrs. Beaver, Mr. Fox, the lead wolves, Maugrim and Vardin, and their wolf pack.
Schaub has received multiple nominations for individual achievement in character animation by the Visual Effects Society.  His first nomination was for STUART LITTLE 2 as a supervising animator for which he won that year's award for Best Character Animation in an Animated Motion Picture.  His second nomination was for creating the animated performance of the character 'Steamer' in THE POLAR EXPRESS, one of the few characters in the film created entirely through key-frame animation.
His other film credits at Imageworks include the Academy Award®-nominated STUART LITTLE, HOLLOW MAN (2001 Academy Award® nomination, Best Visual Effects), EVOLUTION, CAST AWAY, GODZILLA, and PATCH ADAMS.
Schaub has earned producer and director credits on several independent video projects, receiving two Accolade Awards as well as nominations by the American Film Institute and the Annual DVD Awards.  He has presented his work through numerous publications and conferences around the world.