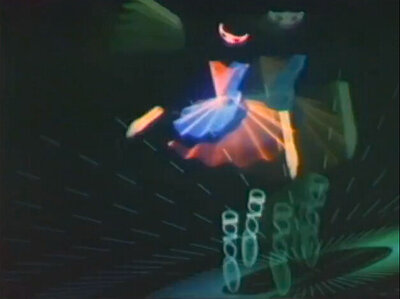 The Larger Than Life 1985 digital animation, incorporating early motion-capture techniques and other innovative computer graphics techniques, was a project by then UCLA engineering / design student Dave Curlender and UCLA Chemistry and Biochemistry graduate student David S. Goodsell, using the department's Evans and Sutherland Multi-Picture System. Currently, David Goodsell is a Professor of Computational Biology at Scripps Research and does outreach work with the RCSB Protein Data Bank.
This finished project premiered to the public at "On the Threshold", and was one of a number of early computer graphic works screened at EZTV, first as a work in progress, and then numerous times over the years. Most recently, the 1985 piece was used as part of the finale for the opening of the Getty Museum's Pacific Standard Time.
Dave Curlender is a EE engineer and designer. In graduate studies at UCLA in the early 1980s he conducted multidisciplined experiments at the Molecular Biology Laboratory in motion simulation graphics, 3D animation and automated motion capture.