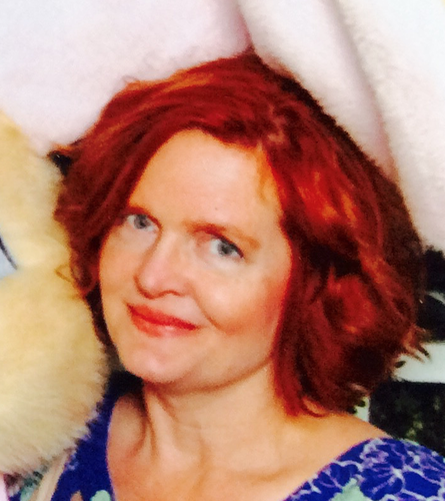 Maija Beeton is a Los Angeles-based artist and producer of extant and emerging media whose work often intersects the boundaries of art, design and technology. She is known for her diverse media styles and subjects. Her recent projects include producing and directing several short films, and interactive and immersive works done in collaboration with Ladies of Courage, Elated Pix, Vortex Immersion and SearchLight Art.

BACKSTORY
Beeton was raised in a vibrant Toronto household of filmmakers, musicians, and visual artists. In contrast, she attended the challenging University of Toronto Schools, a mandatory-Latin-and-physics, Hogwarts-resembling, former-all-boys academy. She graduated from the school's first co-ed class and went on to study painting and experimental art at the Ontario College of Art & Design and then New York's Cooper Union for the Advancement of Science and Art, earning a BFA in 1984. 
While at the Cooper Union, she took electives in computer programming and engineering design, which led to her creating some early, experimental computer graphics. Around this time, a chance invitation brought her to the New York Institute of Technology (NYIT) where she had a chance to see an early WALDO demo. She instantly asked for an internship there. NYIT agreed, but the Cooper Union wouldn't support her interning at another academic institution, so she landed a spot at The Fantastic Animation Machine (FAM), another early New York-based computer animation studio. Upon graduation, she became FAM's art director.

ENTERTAINMENT
Beeton has produced pioneering animation and visual effects for software, games, television, film, theater, and emerging media. The aesthetic and technical adventures have been extreme and once involved her traveling to Uzbekistan to wrangle data! As a Los-Angeles based contractor, Beeton has worked on Falling Skies with Masters FX and Valley of the Gods with Elektrashock. At Brain Zoo Studios, Beeton led teams to complete animation and visual effects for video game, film, television and new media projects. Select titles include: Lord of the Rings Online-Mines of Moria, Destroy All Humans, Lego Star Wars-New Hope, Mercenaries II, and Stiletto. Along with this work, Beeton produced animation and effects for the 2008-2009 FSN cable series Sport Science, for which she and the crew won Emmy Awards for Outstanding Graphic Design. At The Truly Dangerous Company, she developed the story and concept art for theme park rides and television projects. Her first L.A. gig was producing the CG animation for San Rio's theme park ride The Time Machine of Dreams, at deGraf/Wahrman. It was the first stereoscopic 3D vista vision film, as well as the first commercial film to use behavioral animation. 
Prior to moving to Los Angeles, Beeton was a New York City-based video and new media producer/director. She worked with NHK to direct and produce animation for Narita Airport's early HD display. In association with Video Planning, she worked on projects for MTV, PBS, Sony Music Videos, Showtime, Mitsubishi, AT&T, and Comedy Central. One highlight of this time was designing and directing the introductory animation of Public Enemy's music video album Fear of a Black Planet. 

TECHNOLOGY
Beeton has collaborated on technological innovations with clients and employers such as the BioInspired Forum + Embedded Nano (light-emitting particles and rapid prototyping), NHK (the previously mentioned animation for the first HD display), Nichimen Graphics (software training for game development) and Computed Anatomy (designing the GUI + coding the graphics library for the prototype of what became LASIK). 
She moderated the International Iberian Nanotechnology Laboratory Summit 2015's panel on Scale Travels – The Intersection of Nanoscience and Art, Braga, Portugal. Beeton was a member of the 2015 WonderWomenTech winning Hackathon team. 


FINE ART
Beeton's independent projects are conceived of as discrete investigations and may use installations, video, projection, murals, painting, computer programming, interactivity, VR, graphics, animation, theater, music, text, and/or landscaping. Her deliberate lack of commitment to a single stylistic direction allows for precise combinations of form and content. Underlying her work are interests in how a given medium frames a message, and how the spectator is also complicit in constructing that message.
Beeton has been the subject of solo art exhibitions and screenings at galleries and sites in New York City, Los Angeles, and Stockholm. She has also collaborated with artists such as Audri Phillips, Kanlun (Kelon) Cen, Jim Shaw, Perry Hoberman, Jaroslaw Kapuscinski, Lee Breuer and Leslie Mohn. Select group exhibitions include Ladies of Courage, West Hollywood, CA; Domance, Metaverse + Bogotá Planetarium, Colombia; the East Village Arts Festival, Theater for the New City, NYC; Salon of the Mating Spiders, Herron Test Site, Brooklyn, NY; Ovarian Warriors and Knights of Crissum, Sue Spaid Fine Art, Los Angeles, CA; PhotoFair, Gothenberg, Sweden; Art Futura, Barcelona, Spain; Invitational, Cold City Gallery, Toronto, Canada; Group Show, Banff Centre for the Arts, Banff, Canada; Ten Painters, White Columns, New York, NY; The Bazaar, Fashion Moda, The Bronx, NY;  and The Media Science Show, Ridge Street Gallery, New York, NY.
Beeton has produced commissioned projects in the U.S., Canada, Japan, Spain and Sweden and is the recipient of several residencies: Digital Media Artist-In-Residence at The American Film Institute and Fine Art Studio Fellow at The Banff Centre for Arts and Creativity.
Beeton's artwork is part of the permanent collections of private individuals, Brooklyn Union Gas and LaGuardia Community College. She has been featured in publications such as The Los Angeles Times, Público, Indiewire, LA Weekly, Animation Magazine, Material.Konst-fanzine and Cinefantastique.
EDUCATION
In 1998, Beeton was recruited to work at the American Film Institute (AFI). She became the AFI's digital media graduate program director, Digital Media Filmmaker-In-Residence and Director of Advanced Technology Programs. She ran the AFI's Computer Media Salons, as well as the AFI-Intel Enhanced Television Workshop, programs that both connected cinema artists with technology companies. In 2000, she launched the AFI's Digital Video Symposium and, while on maternity leave that year, she co-founded Access-o Microcinema, a community cinema, and The Tano Media Institute for women's screenwriting. Since this time she has sometimes served as a part-time faculty member in the Southern California region, teaching subjects such as Experimental Animation, Media Aesthetics, Sound Design and Digital Media. She currently teaches Digital Storytelling and Media Literacy at Otis College of Art and Design.

COMMUNITY
When Beeton moved to Los Angeles in 1993, it was essentially due to the draw of the L.A. SIGGRAPH community she'd encountered while producing at deGraf/Wahrman. The SIGGRAPH crowd + associates were some of the least pretentious, most knowledgeable and generous filmmakers, animators, artists, scientists, programmers, entrepreneurs and people-beyond-a-category that she'd ever met. She is still very grateful for this community.